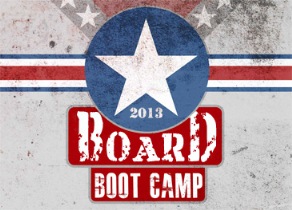 Message From Lueder, Larkin and Hunter…
Board Boot Camp is back! Our firm's annual Board Boot Camp will be on the evening of Tuesday, September 17, 2013 at The Metropolitan Club on Windward Parkway in Alpharetta. This is a complimentary community association seminar open to all board members (regardless of whether your association is a client) and property managers, featuring sessions on the nuts and bolts of director and officer obligations; running association meetings; maintenance, repair, insurance, and risk management; foreclosures and alternative collection strategies; and leasing in the community.
Registration and complimentary heavy Hors D'Oeuvres between 6:00 – 7:00 PM. The presentation will be from 7:00 to 9:00 PM.

Contact us here at Liberty wjd@libertycm.com (Will Deissroth) 770-466-6331 ext 142 or Lueder, Larkin and Hunter directly at jgarner@luederlaw.com (Jodi Garner) 770-685-7000 for more information.
You must RSVP by September 13th to Jodi Garner at Lueder's office. 770-685-7000